Park El Palmeral – the most beautiful park in Alicante
In Alicante you can visit many beautiful parks but the most beautiful and most quiet park is undoubtedly "El Palmeral". Although the park is close to the busy lane Avinguda d'Elx (N-332) you will not be bothered by the traffic here. You have to find the park a bit outside the center. That's why you won't find many day trippers here. Pure peace and enjoyment is the message here.
Park "El Palmeral" is, as the name suggests, a park full of different palm trees. It is made up of several levels because the park is built against a hill. A waterfall provides refreshment and gives an extra dimension to the park. Only occasionally you come across a jogger or gardener. A few toys and fitness equipment are also provided in the park.
You walk on well-kept gravel paths, over bridges, pass beautiful flower beds and rare palms. The gravel paths make this park very accessible for people with prams and wheelchair users.
You can also view the park from the water. In the park you can rent a free rowing boat to sail over the beautifully landscaped pond. You just have to sign up at the dock, hand over a value document (driver's license or passport) and sign that you will return the boat intact. They help you on board and then have to row yourself.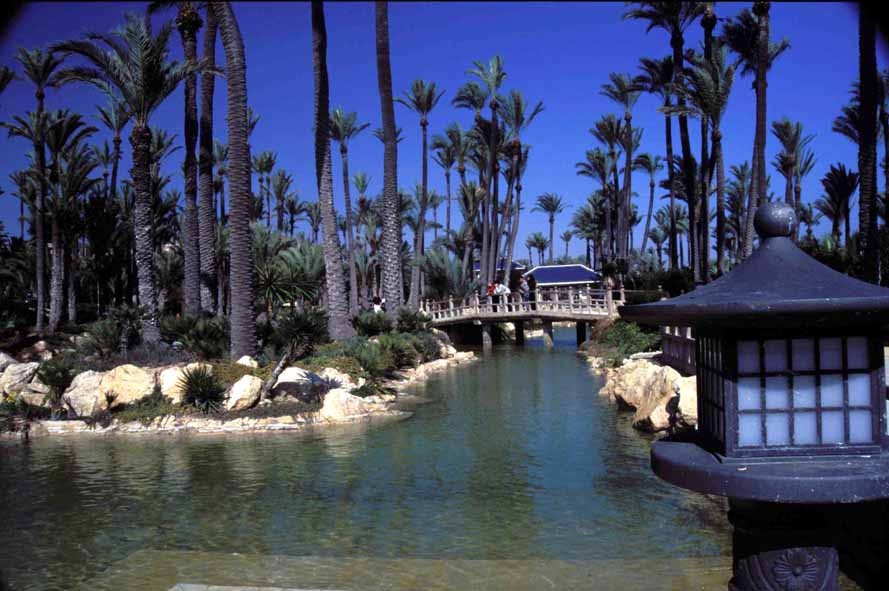 The pond consists of beautiful open spaces and narrow passages. That makes it very picturesque and fun to sail. This is not just an activity for people with children. Adults also row around the beautiful water. A fun activity that you should not miss.
The park can be visited daily from 9 am to 10 pm in winter and 11 pm in summer. The hours for rowing vary depending on the season.
! Dogs are not allowed in this park!