Renting a car in Spain is very cheap
Azure sea, sun, warm weather and lively people. All this and much more is in short popular Spain. Therefore, if you are thinking about a relaxing stay on the Costa Blanca, renting a car will take your stay in Spain to a higher level and make your stay an unforgettable experience.
10 euros per day!
Car rental in Spain is one of the cheapest in Europe. Off-season prices are sometimes ridiculous, especially in coastal areas or islands, where you can only pay around 70 euros per week for a weekly rental of a smaller car.
A good reservation is essential
If you want to save money, rent a car in advance and already at the airport. Today there are a number of portals where you can find a car before you travel – eg RentalCars.com. After entering several details such as the date or location of the rental, you can check out dozens of car rental offers such as Hertz, Avis, Alamo, Sixt, GoldCar, Budget, Europcar or Centauro.
What to look for and watch?
Renting a car in Spain is very easy. Check your car carefully before renting and ideally take a picture of each gash. When renting, you should always focus on everything that car hire involves, so that you are not surprised that the company will ask you for more money than originally thought. You should look in particular at the following:
Daily mileage limit
Car insurance
Deposit amount
Fuel
Place where you can pick up your car
Daily mileage limit
The cheaper the car rental, the lower the limit is. The normal kilometer limit per day is 120 km and additionally 0.4 euros per kilometer. Kilometrage is calculated for the entire period of car rental – for example, in 7 days we will be able to drive 840 km (7×120). Of course, the best option is an unlimited limit.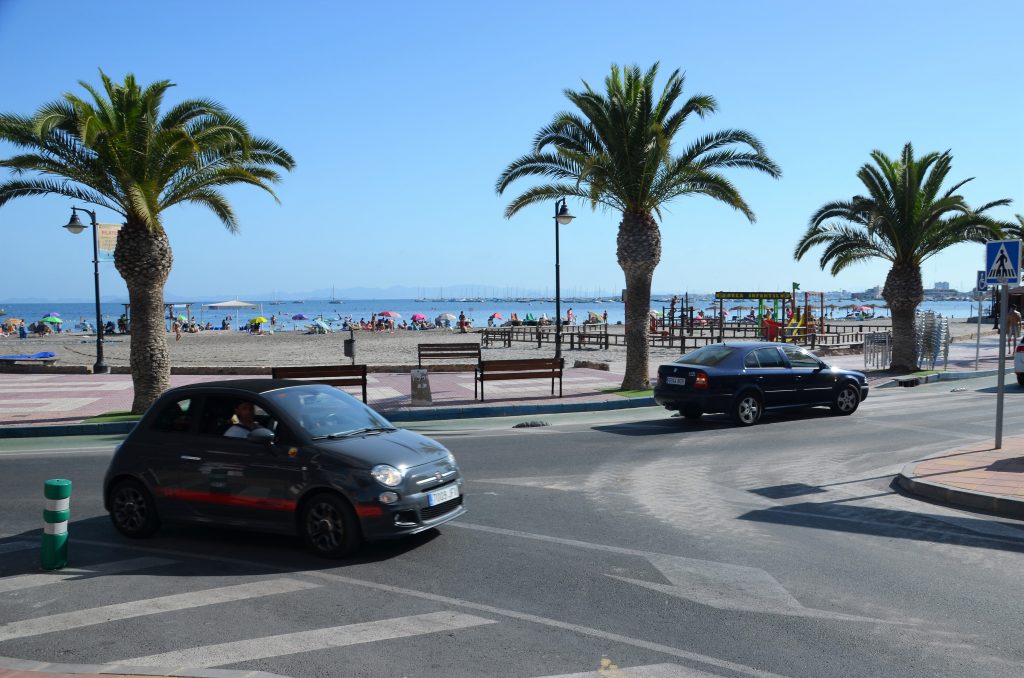 Car insurance
Car insurance is usually the most difficult item. The basis of all insurance policies is similar to the Czech third party liability insurance. Otherwise, it is with the liability for the car when the damage to your car, or when someone steals the car. If you do not buy additional insurance, which is not a negligible item, then in the event of an accident or theft, you will get a high deductible, which is roughly dependent on the value of the car – from € 800 for small cars to € 1,500 for the most expensive models.
Sufficient deposit on card
The amount corresponding to your liability for damage is activated by the car rental company as a deposit on your credit card for the duration of the rental just in case of accident or theft. Usually this must be a credit card (not a debit card), and most importantly there must be enough money in the account. To avoid any inconvenience, have at least 1,200 euros.
Fuel
The most common is full-to-full. You get a car with a full tank and in this state you should also return it. If you do not do so, the car rental company will charge you for the missing petrol plus the administration fee. Be sure to stop at the gas station before returning.
Or they can tell you at the counter how much there is in the tank (half, quarter, eighth), mark it in your contract, and it is assumed that you return the car with roughly the same fuel level. In any case, check the fuel gauge before you start driving. And if the level does not agree with the quantity, do not hesitate to return with a complaint.
Car rental opening hours
You may need to rent or return your car outside normal opening hours, for example at night or early in the morning, due to the connecting service. This can also cost you extra money – look for "out of hours charge" in the contract, which costs, for example, 40 euros at Alicante Airport.
When returning a car, most car rentals have access to a lockable box at any time that you simply throw the keys into before leaving, while the counter is closed.