Spain trains – the best way to travel in Iberia
It surprises many travellers to learn that Spain now has Europe's most extensive high-speed rail network, with over 2500 km in service and many more under construction. Relaxing, clean, and comfortably spacious, Spain's train system could be argued to be one of the best in the world, taking you to most of the major cities in this peninsular country at record speeds of up to 320 km/h,, and even connecting travelers with Portugal and France. Booking a seat on the train is just as easy, as there is only one train company, Renfe, and you can see all the available trains and ticket classes on their website.
Here is the essential information you need to know before booking Spain train tickets!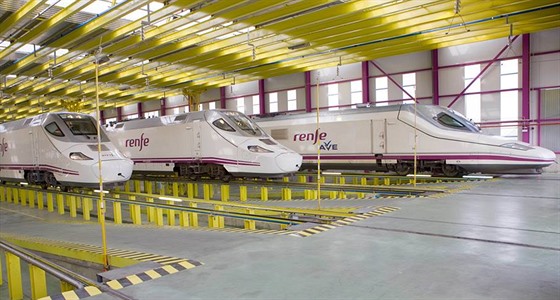 Only one train company Renfe
Renfe covers all the train services in the country, from inner-city to suburb trains all the way to long-distance, cross country trains (and even luxury, multi-night traveling trains! More on that below). When visiting Spain, the main key to pay attention to when choosing a train to book is what type of train it is. Usually, you can figure it out just by seeing the array of trip durations on a given day, with shorter trips being on faster trains and longer trips taking place on slower trains.
AVE trains
The fast trains are called AVE trains. These routes have a special rail system that allows the train to zoom through the country at record speeds. What was once an 8-hour trip between Madrid and Barcelona can now be done in just 3 hours! Madrid is also connected to Sevilla, Valencia, and Alicante by AVE Trains, as well as several other cities, including Granada, which was just established in 2019. You'll also find AVE Trains for shorter distances, such as from Madrid to Toledo or Segovia, or Barcelona to Girona or Figueras, making for easy day trips.
MD and LD trains
Slower trains have more stops than the AVE trains, and are typically called MD (media distancia) or LD (larga distancia), but have other names as well. Check the duration of the trip in comparison to other times, and you'll notice that these trains take a lot longer to reach a destination. The slower trains aren't as up-to-date as the more modern AVE trains, meaning you might not find the same services on board, but they work just as well in getting a traveler from point A to point B and are often the only option for some destinations.
What is the difference between first-class and tourist-class tickets on the AVE trains?
The slower trains typically don't have this ticketing option, but the AVE trains were designed to separate the two classes in a few different ways. Depending on your traveling style and budget, you can decide whether a first-class ticket will make your trip more comfortable.
First-class tickets are separated into their own train compartment at either end of the train. These compartments have fewer seats in them, meaning they are more exclusive and tend to be quieter. The seats are spacious, and you'll have a daily newspaper service brought to your seat at the beginning of the trip for you to choose from. If you are traveling during a mealtime Sunday-Friday, you will also be served a meal onboard included in your ticket fare. They have a variety of meals for those with food allergies or specific preferences. Finally, first-class ticket holders have a private waiting lounge at certain train stations that they can use up to 2 hours before their train departs.
Tourist-class tickets
Tourist-class tickets are more run-of-the-mill, but don't think that these sections of the train are any less clean or modern! The seats here are also spacious (although not as spacious as first-class, but you won't find your knees hitting the back of the seat in front of you like on an airplane). You can typically fit a backpack by your feet in these seats, and there are luggage racks above the seats as well to store winter coats and small suitcases. While the tourist class doesn't have a meal included during meal times, the cafeteria car is easily accessible and offers sandwiches, chips, coffee, and more. Bringing snacks on board with you is also a good idea, and there is no liquid ban on the trains! So feel free to bring refreshments on board.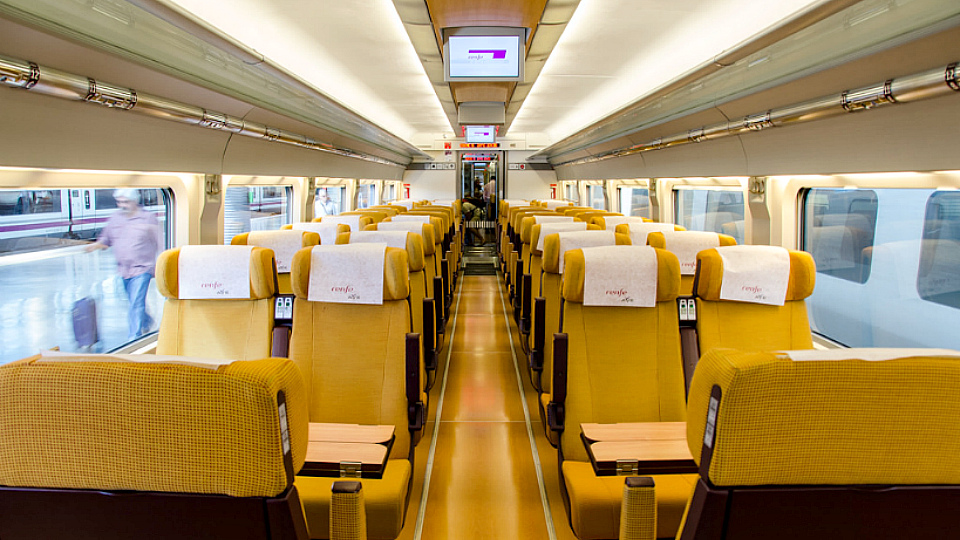 Both classes also have a cafeteria cart that comes through offering beverages and snacks, and will often show a film on the monitors located throughout the car. A stewardess will pass out headphones at the beginning of the journey, but be forewarned that the film is always in Spanish.
Punctuality agreement
Renfe has a punctuality agreement with its riders! If your AVE train is more than 15-30 minutes late on arriving at your destination, you are entitled to a recompensation. It's always important to let your travel agent know if that happens, so they can help you get your refund!
Spain trains are the best way to get across the Iberian Peninsula during your travels, and if you can choose an AVE train, you'll get there in no time!
The source: spainunspoilt.com