La Union Mining Park with mining train, La Unión
The area of La Unión is located in the southeast of the Iberian Peninsula, in the Region of Murcia. This area has a history intensely linked to mining throughout different eras, as evidenced by the enormous amount of vestiges of past activities, some of which have been recovered today.
Mining Park of La Unión
This is the most wide-ranging option, and offers the chance to learn all about the operations of the old underground mining industry, including the extraction of the mineral, washing and the subsequent smelting process. It also has a mining train so visitors can explore its distinctive landscape in comfort.
One of the main attractions is the visit to the underground mine of Agrupa Vicenta, which has over 4,000 square metres open to the public. It is 80 metres deep and has spectacular interior spaces and a lake of reddish waters. Other visits in the Park include a compressor room, the miners' quarters, a roasting furnace, washeries, smokestacks and a mud pond.
The Mining Park surrounds an old route used for transporting minerals known as the Camino del 33, which joins La Unión with the port of Portmán. Its numerous mining-related features have made it a genuine open-air mining museum.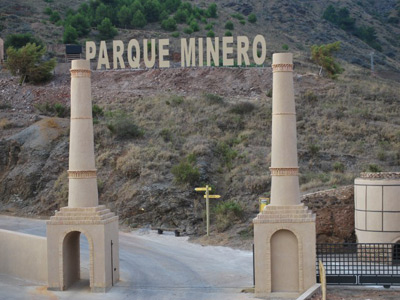 The effects of mining on the cities
La Unión and Cartagena provide good examples of how the mining boom transformed the cities. The historic quarter of La Unión, for instance, is full of buildings connected to its mining past, such as the Casa del Piñón house, historically the property of a mine owner and today the site of the Town Hall, and the old Public Market. It also has an important Mining Museum containing an exhibition on all the varied mineralogy of the region.
Many of the Modernist buildings in Cartagena are linked to the economic progress enjoyed by the prosperous middle classes thanks to mining. Examples include the Casa Zapata house, Aguirre Palace, and the houses of Casa Dorda and Casa Cervantes.
The source: spainisculture.com