Tentegorra Aventura – a thrilling multi-activity centre, Cartagena
Tentegorra Aventura is a thrilling multi-activity centre based in Cartagena. For those that don't have much time to spend in the city or just fancy a day full of fun activities all in one place, Tentegorra Aventura Cartagena boasts a selection of outdoor activities to suit all age groups.
Tentegorra Aventura forms part of the Parque Rafael de la Cerda. This is located on Carrer de Tentagorra on the outskirts of the city. When visiting it's advisable to contact the centre to confirm opening times. This is because the swimming pools and activities are open at different times of the day as well as different times of the year. Aside from the various fun activities, there is a children's playground, picnic and BBQ areas, and a cafeteria serving drinks and snacks.
Pools & Playground
A main rectangular swimming pool is great for adults and those wanting to keep fit doing laps. A series of three lagoon style pools feature various activities. The largest is surrounded by terraces and grass areas to sunbathe. Four side by side water slides enter a separate pool, ideal for races. In the third pool is a pirate ship that's super fun for the young ones with three mini slides. The children's playground boasts swings, forts and slides, and there is a separate skate park.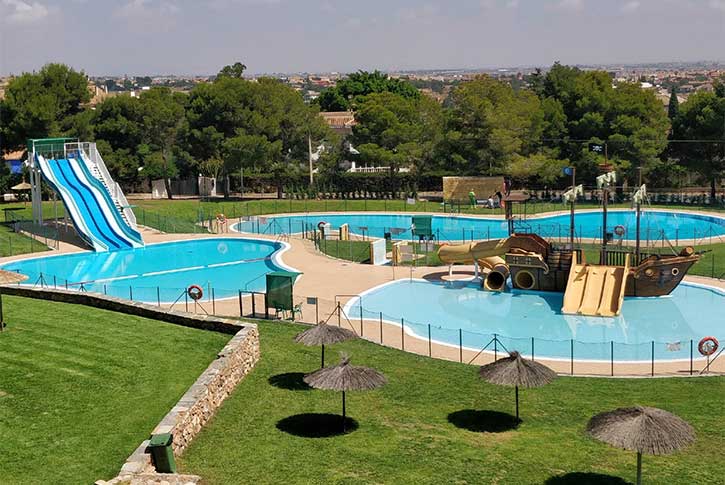 Multi-Adventure Circuits
The more active visitor with a head for heights can test their skills and balance on the 2 kilometre multi-adventure circuits. Making their way through the trees at a height of 11 metres in places are a series of suspension bridges, ropes, oscillating logs, step bridges and thrilling zip-lines. These have been configured to allow 5 different circuit challenges to suit all skill levels.
Labyrinth Maze
One of the most popular activities at Tentegorra Aventura is the large maze. Your orientation senses will certainly be put to the test here where monitors are on hand to assist should young ones lose their way. Taking centre stage in the maze is a watchtower and bridge. This gives the monitors a good viewpoint but is also a great place for visitors to watch the skilled and not so skilled participants test their orienteering. Within the maze are two challenging routes to take.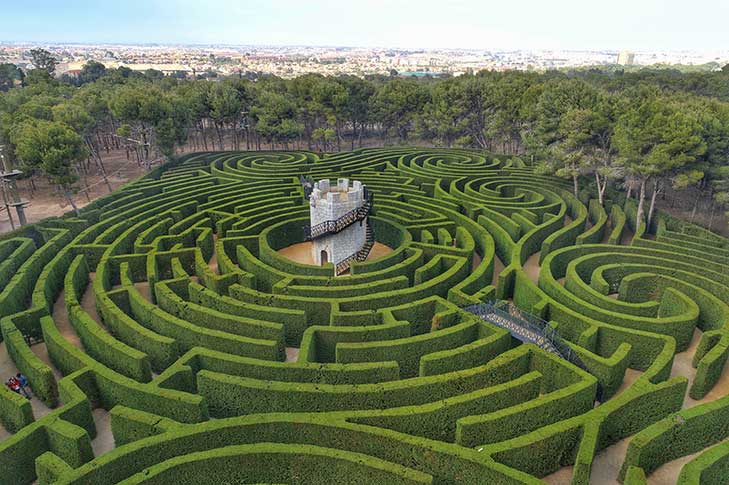 Laser Wars
For those keen on paintball, please be advised this is just in the name as the activity does not involve paintball but rather laser guns. However, laser wars are still great fun and you won't be nursing bruises for the next few days. Using radio frequency equipment that detects hits and shots fired, players are given a certain amount of lives and battle it out in different scenarios.
The surrounding Parque Rafael de la Cerda has nature trails for walking. A full cardiovascular workout is possible in the larger of the swimming pools. Then there are several sports courts. These include tennis, basketball and padel courts as well as football pitches.
The source: cartagenainsider.com