Lo Romero Golf, Pilar de la Horadada
The Lo Romero Golf (Pilar de la Horadada – Alicante – Spain) boasts a truly idyllic location set in the midst of an orange and lemon orchard, just a stone's throw away from the beach. Widely labelled as the 'golf island', here golfers can enjoy a truly unique round of golf. With a stunning landscape, several distinctive holes and an unforgettable challenge, the Lo Romero Golf is an essential addition to any golf holiday in Spain.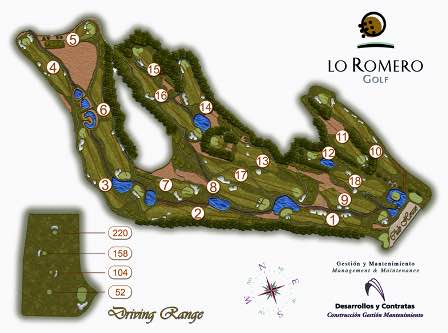 This stunning par seventy-two golf course measures out to just over six kilometres from the yellow tees, spanning across a beautiful landscape. The Lo Romero Golf is known for its peaceful environment so that golfers can enjoy an uninterrupted round of golf. Players can enjoy the secluded ambience to provide them with an unforgettable round of golf.
Due to the golf course's elevated position, spectacular sweeping views of surrounding orchards can be enjoyed throughout the round. Furthermore, with a mild climate throughout the year, conveniently for golfers, the La Romero Golf can be enjoyed most of the year.