Torrevieja – a seaside city with a unique microclimate
Torrevieja is a seaside city located on the Costa Blanca in the province of Alicante, on the southeastern Mediterranean coast of Spain. Torrevieja lies about 50 kilometres south of the city of Alicante and has a population of about 100,000. Easily accessed by both Murcia Airport and the international Alicante Airport, the city also enjoys good road access from the main AP-7 motorway.
The city of Torrevieja has been recognised as having one of the healthiest climates in the world. With over 300 days of sunshine per year, average August temperatures of 30 degrees Celsius and mild winters, Torrevieja is a superb holiday destination and home to a large expat community.
History
Torrevieja was originally a salt-mining and fishing village as it is located between the sea and two large salt lakes (Las Salinas), which give Torrevieja healthy microclimate. Until 1802, Torrevieja existed only as an ancient guard tower, which gave the town its name (TorreVieja (Spanish) means Old Tower) and some labourers' cottages.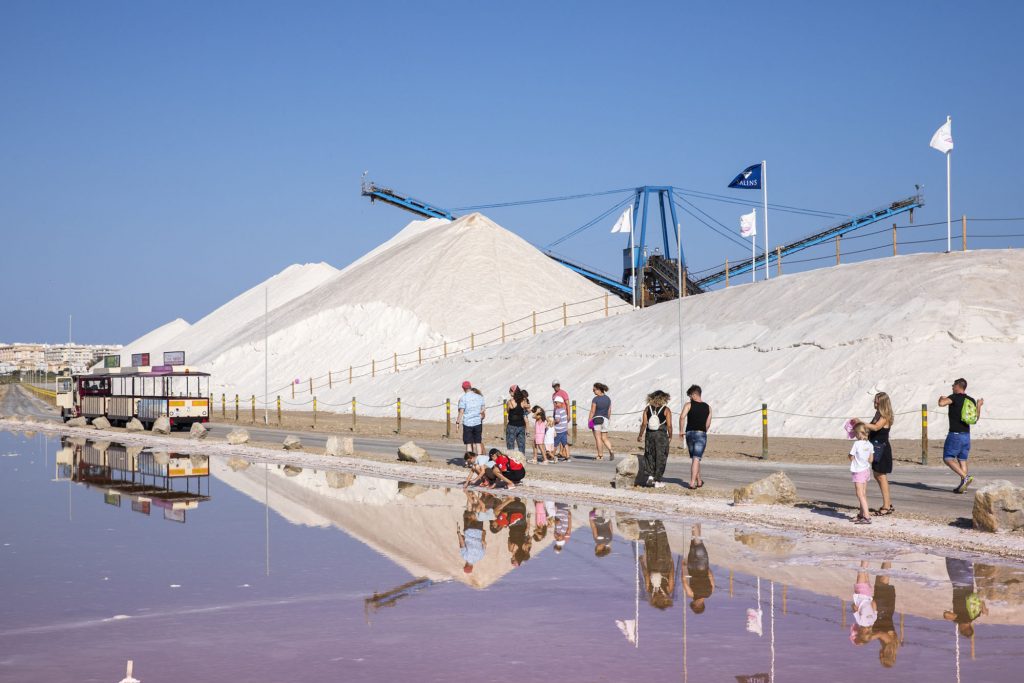 But in 1803, Charles IV authorised the movement of the salt production offices from La Mata to the town itself. In the years that followed Torrevieja became the centre of operations for salt harvesting and exports, and residential development of the city began.
Beaches
Torrevieja boasts no less than 6 magnificent Blue Flag accredited beaches. Playa de Los Locos, Playa del Cura, Paseo Maritimo Juan Aparicio, Playa del Acequion, and Playa de Los Naufragos can be found in the city centre, and offer manicured stretches of unspoiled golden sand and a wealth of amenities.
La Mata Beach is located within La Mata Natural Park and provides 2.3 km´s of pure sand, a resort-style esplanade, and protected natural dunes that offer refuge to exotic Mediterranean flora and fauna.
Torrevieja Carneval
Torrevieja's street parades take inspiration from the traditional Brazilian festivals such as the world-renowned Rio de Janeiro Carnival. However, unlike Rio´s celebrations that last just five days, the Costa Blanca city kept the party spirit alive for a full month.
Things To Do
With so many things to do in Torrevieja, visitors can spend endless days taking in the sights, visiting museums and art galleries, strolling through the parks or just relaxing on the beach. Torrevieja Sports City needs to be seen to be believed and is a city landmark. The place is huge and boasts a mind boggling choice of international standard sporting facilities, football stadium and an Olympic size indoor swimming pool. The modern architecture of the complex is fantastic and it plays host to a number of sporting events.
The Salt Lakes – here keen walkers and nature enthusiasts will find a number of hiking and cycling trails around the edges of the lakes with a lovely variety of flora & fauna and resident pink flamingos. With the high salt content the lakes have a similar buoyancy to the Dead Sea and are great fun to float about in or read a book without getting it wet.
Aquopolis is the largest water park in the city and boasts some thrilling rides, chill out pools, children's play areas, shady gardens and various cafes and snack bars.
Visit the salt works – discover the salt produced in the Natural Park of the Lagoons of La Mata and Torrevieja on this singular scene.
The floating museum – the Delfin S61 was a submarine of the Spanish Armada and is now a floating museum in the port of Torrevieja.
Lo Rufete Multi Adventure Park is situated just outside Torrevieja and offers thrills galore with paintball, quad bikes, kayaking and horse riding just to name a few.