Elche – the city of palms
The city of Elche, or "Elx" in the local lingo, has a population of around 240,000 people, and lies about 7 miles inland from the sea. Elche is so close to the city of Alicante.
Elche is world famous for its cornucopia of palm trees and the best place to see them would be to head to the Palmeral de Elche, which is contains more than 11,000 palm trees, mostly date palms, where legend has it that around 300 years ago there would have been nearly 200,000 trees here!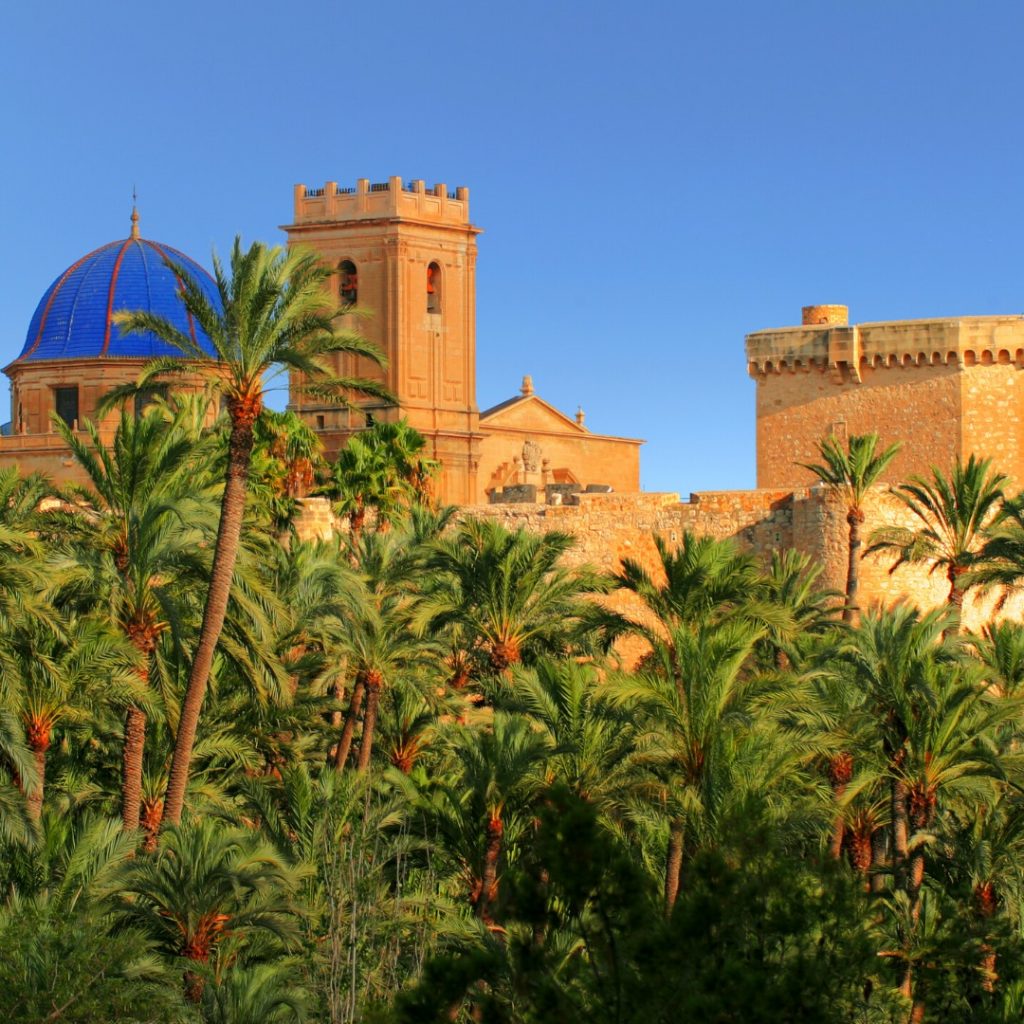 The formal landscape of the palm tree forest that you can see today was created when Spain was ruled by the Muslim caliphs from Northern Africa, who took control of this area during the 10th century. This is one main reason why this is a world heritage site because the African kings not only brought the plants from one culture and country to another, they built irrigation systems and planted the trees in such a a fashion that still exists today!
The Basilica of Santa Maria
The Basilica of Santa Maria is another place to soak up some history when visiting Elche and it can be found at Plaza de Santa Maria, in the centre of town, right next to the municipal park. The mystery it is certainly something to see if you find yourself in Elche.
The Huerto del Cura
The Huerto del Cura (The Priest's Garden), declared an National Artistic Garden in 1943, has an area of 12,000 m2. Inside it is harmoniously housed a wide range of Mediterranean and tropical plants arranged to create an atmosphere of tranquillity and repose. The palm trees, the true protagonists of the garden, lend it its distnctive aspect.
A splendid collections of palms and cacti from all corners of the world, with many varieties which have been adapted to our climate, may also be enjoyed. In addition to the palm trees, many other Spanish Mediterranean plants, such as lemon, orange, pomegranate, carob and jujube trees are cultivated in the Huerto del Cura, alongside others from subtropical climes which have, over time, been added to from beautiful collection of plants from exotic places.
But the most prized jewel in the crown, due to its rarity, is the Imperial Palm. It a unique date palm with seven branches born of the same trunk which gives them life, and whose beauty and symmetry mean that it is an exceptional palm amongst palms. It is named after the Empress Elisabeth of Austria "Sissi", to whom it was dedicated by Chaplain Castaño when she visited the Palm Grove in 1894.