Torre de la Horadada – the beach town with the ancient watchtower
Torre de la Horadada, where the Higuericas Beach Apartment is situated, is a Spanish beach town on the Mediterranean Sea with an estimated population of 2.676 inhabitants. Torre de la Horadada is the coastal extension/beach resort for nearby Pilar de la Horadada, and has grown steadily in size in recent times as more holiday homes have been built around the old port town, but with none of the high rise buildings you see further north on the Costa Blanca.
The town is located in the most southern point of the Alicante province in the southeast of Spain and therefore shares a border with the province of Murcia, right next to the Mar Menor beaches. The famous Lo Pagan Spa is located nearby. Visiting Torre de la Horadada leaves you a feeling of being part of the Spanish society, this place is very popular among the Spanish population, many families from other parts of Spain, mainly Madrid and Murcia enjoy their summer residence here.
The Watchtower
Torre de la horadada is known by is characteristic element: the ancient watchtower, found on the cliff on one of its popular beaches which has been there since the 16th century standing guard over this beautiful coastal town. In ancient times, the Mediterranean coast and specifically the Horadada fields suffered many pirate raids. In order to prevent this, Phillip II had a series of watchtowers built along the coast, so that they could alert villagers about the presence of pirate ships.
The Church La Iglesia de la Asunción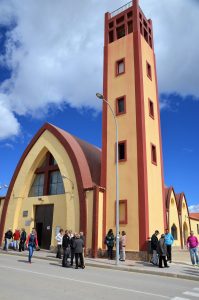 The town also has a very popular church known as "La Iglesia de la Asunción" which is painted in vibrant tones of yellow and red. The church has many wooden benches outside due to the fact that the Church is too warm in the summer to listen to mass, many local Spanish residents meet up in the evening on these benches and spend hours afterwards catching up giving the area a very authentic Spanish feel.
The Restaurants
Torre de la Horadada has a reasonably sized plaza with many restaurants offering various styles of cuisine and plenty of bars, shops and ice cream parlours. The area even has its own locally famous crisps named after the town, the popular snack is made in Torre itself and most beach bars and restaurants offer this snack free with an ice-cold beer or a glass of wine.
Centro Comercial Plaza Nueva – a commercial space that breaks with the classic and traditional style of traditional shopping centers.
Torre de la Horadada is very well linked to the Airports of Murcia (35 km) and Alicante (60 km) on the A7, and has several shopping centers nearby, as Zenia Boulevard or Dos Mares.